Fundraising for an Accessible Van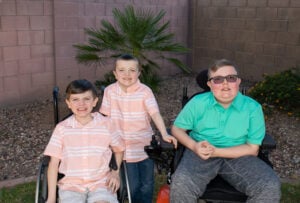 Elijah (12), Maxwell (8), and Luke (6) are brothers from Goodyear, Arizona living with their parents, Jonathon and Jessica, and sister, Claire (10). All three boys were diagnosed with Duchenne muscular dystrophy in 2016.
Duchenne is a progressive neuromuscular disorder that causes a loss of motor, pulmonary, and cardiac function. Currently, Elijah can only move his arms without assistance; Maxwell is unable to move himself without assistance; Luke needs help with getting dressed and performing daily routines.
The boys' Duchenne symptoms have progressed significantly in the last few years. Elijah and Maxwell need a power chair or manual wheelchair to move around and Luke needs lots of help to get himself ready. With their current vehicle unfit for multiple wheelchairs and Jonathon having to lift the boys, the Benson Family cannot safely travel together to clinics, school, or appointments.
"An accessible vehicle would make our lives a little bit easier in the overwhelming world of Duchenne," says Jonathon. "We currently take two vehicles everywhere we go and our schedule can get very crazy. It can take days just to attend their Duchenne appointments."
In addition to having an easier transition from their home to school and appointments, the Benson Family looks forward to quality time with one another, such as sightseeing, swimming, and road trips. Jonathon says, "We recently went to a movie theater that had accessible seating in the back with a great view of the screen. Myself, Jessica, Claire, and the boys really look forward to doing things like that together after receiving an accessible vehicle." 
As participants in Jett Foundation's Accessible Vehicle Fund branch of the Jett Giving Fund, the Benson Family will aim to raise half the funds needed, or more, for their accessible vehicle before Jett Foundation steps in to cover the remaining costs and purchase.
Help Elijah, Maxwell, and Luke attain freedom and independence! Please consider donating to the family's Jett Giving Fund fundraiser today.
All donations to Jett Foundation are tax-deductible to the extent allowed under applicable law and is an unrestricted contribution to the Jett Giving Fund. The family is working to raise half the funds needed for their van or more; when they reach their goal, Jett Foundation will cover the remaining costs and coordinate purchase and delivery of the vehicle. Please note that your contribution will be combined with other Jett Giving Fund donations to ensure that each of the children in the Jett Giving Fund initiative benefit from your generosity.
About Jett Giving Fund's Accessible Vehicle Fund
Jett Giving Fund is Jett Foundation's financial assistance program for families impacted by Duchenne muscular dystrophy who are in need of accessible vehicles or emergency support. As part of the Accessible Vehicle Fund, families fundraise half the funds needed or more for an accessible vehicle, and Jett Foundation covers the remaining costs once they reach their goal. 
If other resources have already been used to meet a specific need, if there is no longer a specific need, and/or if donations have been received in excess of a specific need, donations made in furtherance of a specific need will be applied for general purposes of the Jett Giving Fund. If the Jett Giving Fund no longer exists, all donations will be applied to further the general charitable mission of Jett Foundation.