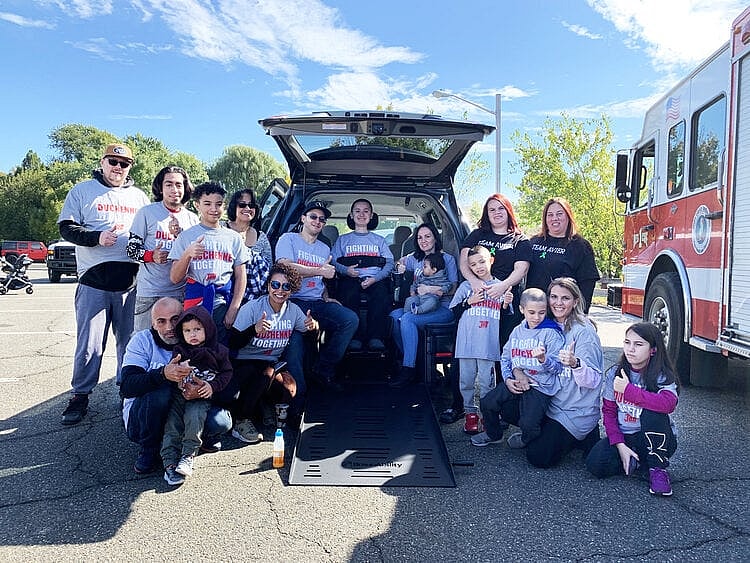 Fourteen-year-old Avier absolutely loves video games. He loves visiting new places, learning new things, eating seafood, and collecting comic books… but nothing compares to his love for video games.
Avier is living with Duchenne muscular dystrophy, a genetic disorder characterized by progressive muscle degeneration and weakness. There is currently no cure for Duchenne.
Life with Duchenne comes with daily challenges. One major challenge: transportation.
Amanda Leonard shared with us how much harder it has become for their family of three to travel safely together with Avier in his power chair:
"We have to rely on medical and public transportation which has been a nightmare," said Amanda. "Sometimes medical transportation doesn't show up or we have to wait an extended amount of time to go back home. Public transportation would often refuse to stop for us or the lift was not operating."
This is a serious challenge for many families impacted by Duchenne muscular dystrophy. There is a great financial burden associated with critical, life-improving pieces of equipment, like the type of van Avier and his family needed. Health insurance often won't cover all specialized medical and accessibility equipment such as scooters, shower chairs, ramps, rotational medical beds, platform lifts, and accessible vans–items desperately needed when impacted by a progressive muscle-wasting disorder.
Avier's family applied for Jett Foundation's Jett Giving Fund: a matching gift program that helps to alleviate some of the financial burden that families face when purchasing accessible equipment. After several months of fundraising and raising awareness, Avier and his family finished raising half the funds needed for their nearly $62,000 accessible van through their fundraising page. Jett Foundation has matched the remaining 50 percent to cover the remaining cost of the van.
"Now we will be able to get in our van and go wherever whenever we want. We are looking forward to being able to get Avier to all of his medical appointments and anywhere he'd like to go without any barriers. We are also looking forward to taking a trip to Disney World and Texas to visit some friends that we have met in the Duchenne community. "
The family was joined by their local community to celebrate the van's arrival. Members of the Masonic Lodge of Bayonne, Knights of Columbus, Bayonne Police Department, Bayonne Fire Department, and Bayonne Mayor Jimmy Davis all shared in the family's excitement.
When asked what she would like to share with the Duchenne community, Amanda said, "Duchenne is a monster and takes away so much from us, but seeing all Duchenne parents fighting to ensure that our children can enjoy life is inspiring."
To help support the Jett Giving Fund with a gift or sponsorship, please visit our Jett Giving Fund website today at jettfoundation.org/jett-giving-fund.