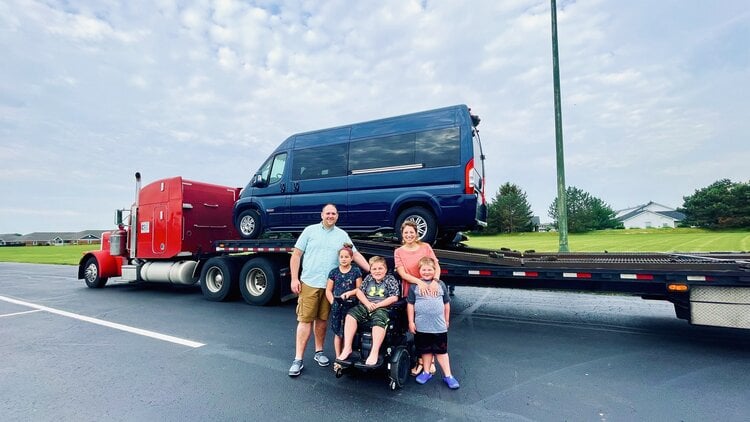 Congrats to the Andrews family in Columbus, OH on reaching their fundraising goal for their new accessible vehicle! The Andrews family applied to Jett Foundation's Jett Giving Fund because their son Brock, 9-years-old, was diagnosed with Duchenne muscular dystrophy. Brock lives with his father, Chris; mother, Trisha; sister, Lana; and brother, Graham.
Brock now uses a wheelchair full-time to get around. It was challenging for the family to transport one full-size chair, let alone potentially having to transport two, as Graham is also diagnosed with Duchenne muscular dystrophy.
According to his parents, Brock's Duchenne progression has always seemed to be at a faster pace than a lot of boys with DMD. Brock gradually stopped walking completely, and his muscles are very weak. Graham is still walking, running, and very independent — and the family hopes Graham will maintain his strength and not have to use a chair for a long time.
For a van that could potentially fit two chairs safely and comfortably, the price tag came to $94,000. With the price of accessible vehicles being so costly, the Andrew's family submitted an application to Jett Foundation's accessible vehicle fund for assistance. Through fundraising and the support of their community the family was able to raise half the funds needed, and Jett Foundation covered the remaining cost.
The new van has already improved the quality of life for Brock and the rest of the Andrews family. Going about their daily routine or doing things they love, such as visiting family, was near impossible without a wheelchair-accessible vehicle.
"The piece of equipment means we don't have to rent a van to go visit grandma, we can just hop in the van and go," says father Chris.
Chris encourages people to step out of their comfort zones and reach out to resources available to you. "To all the Duchenne parents out there trying to figure out everything on your own… one of the best things you can do is realize that there is a community of families that are willing to help you fight for your kids," he says. "Everyday will be a fight, just keep fighting… don't quit."
You can help us to support more families through the Jett Giving Fund. Donate today or learn more about becoming a sponsor by emailing info@jettfoundation.org.
Established in 2017, Jett Giving Fund has helped transform the lives of countless families across the country with over $1.8 million worth of accessible equipment and emergency assistance thanks to the generous support of individual donors, local communities, and major sponsors including Cure Dale's Duchenne, Sarepta Therapeutics, FibroGen, the Flatley Foundation, and the Killian Family.