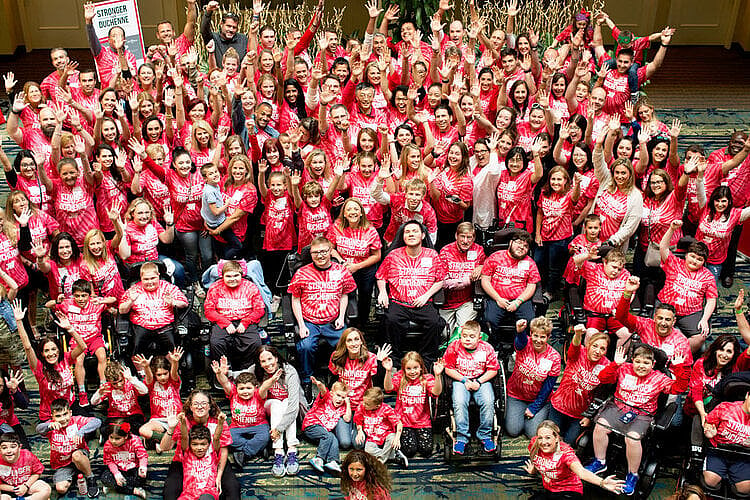 Jett Foundation hosted World Duchenne Awareness Day (WDAD) on Saturday, September 7 at the Embassy Suites Boston Waltham by Hilton. This year's theme was "Stronger Than Duchenne." From an inspiring speaker program to superhero themed activities in the kids' room, strength and hope saturated the day's events.
"Our community has a strength and tenacity that is demonstrated over and over again. Despite challenges and obstacles, we continue to move forward together in our fight to cure Duchenne muscular dystrophy," said Christine McSherry, founder and President of Jett Foundation. "That is why this year's awareness day theme is Stronger Than Duchenne. Together we are stronger than Duchenne and we are coming together to celebrate just that."
In that spirit, Jett Foundation welcomed and cheered on the Gals for Cal athletes, as they prepared to race for Duchenne the next day in the Hopkinton Title 9 Triathlon. Gals for Cal athlete, Annie Ganot, shared her personal story as a mom, a "Gal", and co-founder of Solid Biosciences.
"We are now 7 years post diagnosis and what has become vividly clear to Ilan and me is the importance of quality of life," said Ganot. "Not only do we desperately need treatments to slow down the progression of this monster of a disease, we need to keep our sons in top physical condition, ensure our homes and transport are smooth and accessible and give our boys fulfilling experiences and opportunities. This is where Jett Foundation comes in and the importance of your contribution."
Guest speaker, Ashley Kelliher, shared her involvement with Jett Foundation in honor of her good friend, Cal Quitzau. Kelliher is a returning Gals for Cal athlete and recently finished her fourth JettRide, a cross-country cycling tour for teens to raise awareness and funds for Jett Foundation and Duchenne muscular dystrophy. She also served as a Camp Promise counselor this summer; Camp Promise, a program of Jett Foundation, offers children and young adults with select neuromuscular disorders a free, week-long camp experience at three locations across the country.
"Every year, Cal says Camp Promise is best week of his life," said Kelliher. "I finally understood what he meant. Not the activities necessarily but its the fact that its one week for all of these boys to just be normal. When they go to camp they completely fit in. At camp, they don't have to worry about what others may think about them being in wheelchairs. For one week everyone just understands and is accepting of one another."
Tracy Seckler, founder of Charley's Fund, a Duchenne advocacy organization named for her son, also spoke at the celebration. Seckler has been a champion for the Duchenne Program at University of Massachusetts Medical. The clinic, spearheaded by founding director Dr. Brenda Wong, is dedicated to improving research and care outcomes for children and adults with Duchenne and Becker muscular dystrophies.
World Duchenne Awareness Day was free of cost for families affected by Duchenne, as well as healthcare providers and academics. The event was made possible by sponsors and community partners in the Duchenne space, including Catabasis, Italfarmaco, JB's Keys to DMD, Mallinckrodt Pharmaceuticals, Pfizer, Inc., Santhera, Sarepta Therapeutics, Solid Biosciences, The Assistance Fund, and Wave Life Sciences.
Stronger Than Duchenne shirts are still available! Get yours here.