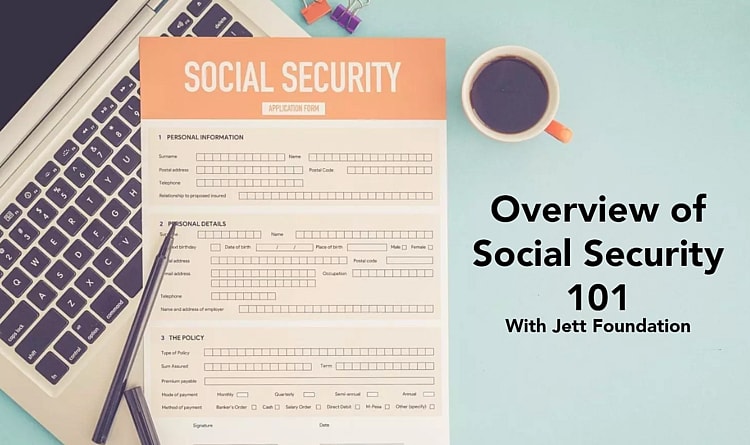 Earlier this year, on May 4th, Jett Foundation hosted Social Security 101 with John Johnston, Public Affairs Specialist at SSA, as part of our Community Webinar Series.
Social Security Disability Insurance (SSDI) and Supplemental Security Income (SSI) programs are meant to provide assistance to individuals with disabilities. The Social Security Act defines disability strictly, and it is helpful to understand what to expect from Social Security during the application process.
Joined by 53 members of our community during our webinar, we received numerous questions from numerous parents and caregivers regarding navigating social security and accessing benefits. To help answer those questions, we wanted to share some helpful links and resources. For further information, please reach out to your local state social security office.
Questions & Resources:

What is FICA (Federal Insurance Contributions Act)?
What is Social Security Disability Insurance (SSDI) and who is it for?
If you recently applied for Social Security or Supplemental Security Income disability benefits and were denied for medical reasons, you have the right to file an appeal within 60 days of the date on your decision notice.
The four levels of appeal are:
A hearing before an administrative law judge.
A review by Social Security's Appeals Council.
A review by the federal courts.
What is the difference between SSDI vs. SSI?
The SSDI program pays benefits to you and certain family members if you are "insured." This means that you worked long enough – and recently enough – and paid Social Security taxes on your earnings. The Supplemental Security Income (SSI) program pays benefits to adults and children with disabilities who have limited income and resources.
What is the difference between SSI, SSSI and SSA?
Understanding SSI – SSI Overview (ssa.gov)
What are Compassionate Allowances (CAL)?
Learn about CAL at https://www.ssa.gov/compassionateallowances/
How do I apply?
Helpful links for further information:

Administering Benefits: Understanding SSI – SSI Benefits (ssa.gov)
Assessing Disability: https://www.ssa.gov/oidap/Documents/Social%20Security%20Administration.%20%20SSAs%20Sequential%20Evaluation.pdf
Changing location of Residence: https://www.disability-benefits-help.org/faq/moving-another-state-re-apply-disability-benefits