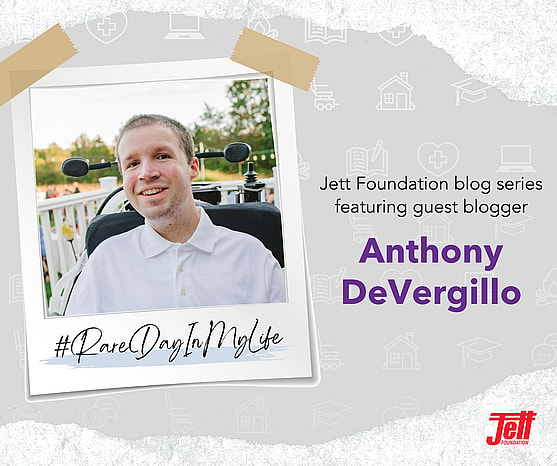 I wasn't always the outgoing, optimistic person that I am today. When I first started high school, I was just learning how to accept my unique situation due to my disability and how to socialize with others. Simply put, I was an awkward and quiet teenager. I may have been upbeat and never stopped talking at home with my family, but quickly became reserved and kept to myself everywhere else. I found other ways to share my thoughts and emotions by writing and recording music with my uncle in our comedically-named band Ant and Uncle, and by writing poetry and short stories. As far as poetry, I was most proud of writing Outside Looking In and Eyes of a Child. Outside Looking In was a mix of two metaphors: my difficulty with being social and feeling accepted as part of a friend group, as well as how I have to deal with the physical barriers of my disability and of the inaccessible world around me. Eyes of a Child was about how it felt both frustrating and humbling when children stared at me when I was out at a store or restaurant; it was humbling since they would ask me questions and learn about disability.
My senior year of high school was definitely the proudest year of my life. My English teacher, who I had shared my poetry with earlier in the year, read some of my work to one of her classes and they invited me to share their story with them. I was so surprised by their request – people actually wanted to learn about my disability? Agreeing to share my story was both the scariest and most evolutionary moment of my life! When I first went into the class, I was nervous until about 5 minutes into my explanation of my diagnosis, because everyone was listening intently and so many students raised their hands to ask me insightful questions. They also were very open and shared hardships they had faced that were similar to my own challenges and difficulties. Wow, I was not as alone in my strife as I once thought! I slowly crawled out of my shell and tore down the walls I had hidden behind for most of my young life. It s ironic that my poem about socially being stuck on the outside helped me to finally open the door and find a place of acceptance and openness where I fit in. At my graduation, I felt like I accomplished everything I wanted to in my high school years: open up, get good grades, make new friends and memories, and figure out my future hopes and dreams. Sharing my story cemented my love for communication and helped me motivate others to share their own story in both my personal and professional lives. All it took was for me to get out of my comfort zone when I was 17 years old.
---
So, my message to you is probably pretty obvious now. I invite all of you to share your story in a way that feels most comfortable to you. You don't have to get into public speaking and jump right in like I did. Start by sharing your story with one member of your family or your best friend in whatever channel or format you are best at. Poetry, music, short story, impromptu conversation, art, or anything else you can think of. You can even share your story anonymously. No matter how you decide to do it, you will realize you are not alone, and people really do care. You will find others who understand your frustrations and celebrate your accomplishments. Yes, I know talking yourself into sharing with anyone is a daunting first step, as it most definitely was for me, but I truly believe in you always!
---
Anthony DeVergillo
Anthony DeVergillo is a motivated communication professional with a focus in the rare disease space. He lives with Duchenne muscular dystrophy, a disease that weakens his muscles over time, but he never lets it stop him from advocating for many who live with a rare disease to be fully included in society.
Anthony's goal for #RareDayInMyLife is to not only share his challenges and experiences with Duchenne, but to allow for others to share their story for the world to read. He hopes that sharing #RareDayInMyLife will better educate the communities around us in order to be more inclusive of people who live with a disability or rare disease.