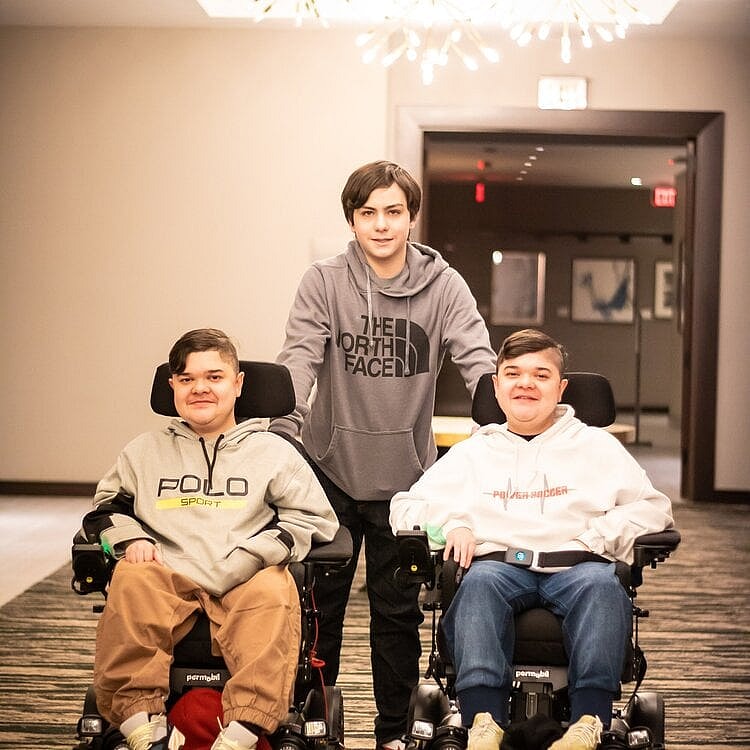 Meet the Chauppetta twins, Andrew and Troy. Born in Stoughton, and raised in Brockton their whole lives, they were diagnosed with Duchenne muscular dystrophy when they were young. However, having this diagnosis did not stop these two young men from living their lives and accomplishing great achievements together. They credit their motivation to never let Duchenne discourage their goals is their father, Mark Chauppetta.
"Our dad is our biggest motivator. He motivates us to live our lives," the twins share. "We wanted to live alone, now we're living independently in our own apartment. We wanted to drive, he helped us with that. Now we own a van and have been driving for five years."
Living with Duchenne did not stop the powerful duo from living their lives and scoring their goals. Prior to needing support for their mobility, and receiving assistance from wheelchairs, Troy and Andrew loved to play sports.
"When we were growing up, we could play sports 'cause we were still walking and doing other things like a normal able-body person," says Andrew. "When we got to a certain age, we lost that function and had to start using power chairs. So we found a sport, and fell in love with it instantly."
Still determined to remain active and involved with sports, Andrew and Troy discovered power soccer–soccer developed for players to use power wheelchairs. They instantly fell in love with the sport. Since discovering power soccer, the twins have been actively involved with the sport for the last 10 years.
Being involved with power-soccer has greatly impacted Andrew and Troy's lives beyond the court. Since competing in power soccer, the boys received something far greater than just participation of a team–they've grown to become more social.
"Meeting new people, meeting new kids, meeting new people with different disabilities, and just being able to be with people that relate to you," they share. "Playing soccer has made me a lot more social with people, and it's been a really good experience."
The Chauppetta twins' hard work paid off tremendously. Trough their hard efforts and dedicating time to the sport they love, Troy and Andrew's team had qualified for Team USA in the 2021 World Cup in Australia. Due to the unforeseen global pandemic, the event has gotten pushed back to 2022. However, this bump in the road has not left the twins any less enthusiastic about what's to come.
"We were shocked because we put a lot of work into this to try to make the team. It got pushed to 2022 now; so we're going to train longer, and then go to the World Cup in Australia," they share. "It's pretty fun and a cool experience!"
Troy and Andrew won't let Duchenne keep them down. From living independently, making it to the World Cup, and learning how to drive, the twins strive to live their lives with no boundaries, and the determination that they can do anything they set their minds to.
"You just gotta stay motivated," says Andrew. "Just because you have a disability doesn't mean you can't do things–like us living alone, driving a car–it's great! So you just got to live your life to the fullest."
The Chauppetta Twins will continue to contribute their tremendous efforts in creating more opportunities for other adults living with Duchenne, or other disabilities. The Chaupetta family founded the Wheelchair Strong Foundation, a family-run foundation dedicated to raising money and awareness for Duchenne through laughter and entertainment. Part of raising awareness for Duchenne and raising donations towards the foundation is through their popular merchandise at TWINTEESHIRTS, the brothers' graphic design and apparel production venture.
The Chauppetta twins also an upcoming podcast with their roommate and close friend, Mark, who also has Duchenne. The ATM Podcast, acronym from their names–Andrew, Troy, Mark–is a podcast that will feature many guests living with disabilities. "It's a podcast geared towards disabled people," says Troy. "We're going to have people with different disabilities. It's a podcast about our life."
We look forward to continuing to follow Troy and Andrew in their athletic and professional pursuits as they take on their dreams and goals!