Fundraising for an Accessible Vehicle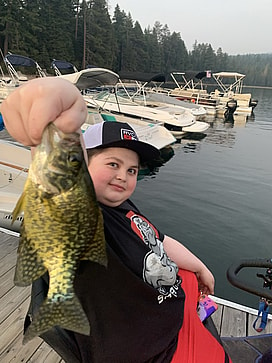 Krue Barry-Johnston is a 17-year-old boy living with Duchenne muscular dystrophy, a progressive neuromuscular disorder that causes a loss of motor, pulmonary, and cardiac function. Krue resides with his single mother Tracy, sister Tavia, and his grandmother Tricia in Klamath Falls, Oregon.
Duchenne has impacted the Barry-Johnston Family's ability to attend appointments, get to school safely, and travel together. Tracy says, "As a mom, I am responsible for my kid's safety. Not having a safe, dependable car for my son is worrisome, especially if an emergency situation were to arise. An accessible van gives him the opportunity to better enjoy life."
Krue depends on his family to transport him to appointments and activities, which has been challenging due to their current vehicle. "We need two people to lift Krue into our car," says Tracy. "And this vehicle has overheated and had many problems ever since we got it. Unfortunately, I've had no other option than to try and use a vehicle that is not safe."
As participants in Jett Foundation's Accessible Vehicle Fund branch of the Jett Giving Fund, the Barry-Johnston Family will aim to raise half the funds needed, or more, for their accessible vehicle before Jett Foundation steps in to cover the remaining costs and purchase the vehicle outright. "We can't wait to experience the simple things together again, such as going to the store and buying groceries," says Tracy.
When not at school, Krue enjoys video games, making others laugh, practicing photography, and cooking homemade meals for his friends and family. Accessible transportation will give Krue a chance at spreading his joy, capturing moments outside of the home, and shopping for his own cooking ingredients.
Help Krue attain freedom and independence! Please consider donating to the family's Jett Giving Fund fundraiser today.
All donations to Jett Foundation are tax-deductible to the extent allowed under applicable law and is an unrestricted contribution to the Jett Giving Fund. The family is working to raise half the funds needed for their van or more; when they reach their goal, Jett Foundation will cover the remaining costs and coordinate purchase and delivery of the vehicle. Please note that your contribution will be combined with other Jett Giving Fund donations to ensure that each of the children in the Jett Giving Fund initiative benefit from your generosity.
About Jett Giving Fund's Accessible Vehicle Fund
Jett Giving Fund is Jett Foundation's financial assistance program for families impacted by Duchenne muscular dystrophy who are in need of accessible vehicles or emergency support. As part of the Accessible Vehicle Fund, families fundraise half the funds needed or more for an accessible vehicle, and Jett Foundation covers the remaining costs once they reach their goal. 
If other resources have already been used to meet a specific need, if there is no longer a specific need, and/or if donations have been received in excess of a specific need, donations made in furtherance of a specific need will be applied for general purposes of the Jett Giving Fund. If the Jett Giving Fund no longer exists, all donations will be applied to further the general charitable mission of Jett Foundation.