Fundraising for an Accessible Van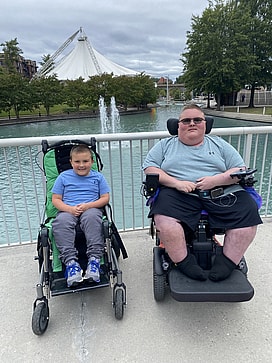 Meet the Hall Family: Mindy, her two sons, Wyatt (14) and Barrett (6), and their father, Chad. The family lives on a farm in Speedwell, Tennessee that consists of cows, horses, two dogs, and a cat. 
Both Wyatt and Barrett live with Duchenne muscular dystrophy, a progressive neuromuscular disorder that causes a loss of motor, pulmonary, and cardiac function. The family's biggest hurdle has been transporting both boys to necessary appointments and school as they progress on their Duchenne journey.
Mindy says, "Barrett stopped walking in October of 2022, which has drastically changed the way that we have to do things in our home and during transportation." 
"I am concerned that if things keep going the way they are with our transportation process, I will have to separate the boys' appointments and activities," says Mindy. "There is a financial burden when you have children with special needs and I am worried that Wyatt and Barrett will not receive what they need."
When not in school, Wyatt loves to play video games and build LEGOS. He can be shy and timid but enjoys spending time with family and his best friend, Hunter. Barrett is a "wild and adventurous" six-year-old who is eager to explore each day and enjoys their farm life.
The family found Jett Foundation's Jett Giving Fund through local media coverage of previous participants in the Accessible Vehicle Fund. Mindy knew they came across the story for a reason and decided to apply. As participants in Jett Foundation's Accessible Vehicle Fund branch of the Jett Giving Fund, the Hall Family will aim to raise half the funds needed, or more, for their accessible vehicle before Jett Foundation steps in to cover the remaining costs and purchase the vehicle outright.
Mindy shares, "After fundraising for this vehicle, we will have the ability to transport both children together which will allow us to continue taking them to school and keep all of their appointments together."
Help Wyatt and Barrett attain freedom and independence! Please consider donating to the family's Jett Giving Fund fundraiser today.
All donations to Jett Foundation are tax-deductible to the extent allowed under applicable law and is an unrestricted contribution to the Jett Giving Fund. The family is working to raise half the funds needed for their van or more; when they reach their goal, Jett Foundation will cover the remaining costs and coordinate purchase and delivery of the vehicle. Please note that your contribution will be combined with other Jett Giving Fund donations to ensure that each of the children in the Jett Giving Fund initiative benefit from your generosity.
About Jett Giving Fund's Accessible Vehicle Fund
Jett Giving Fund is Jett Foundation's financial assistance program for families impacted by Duchenne muscular dystrophy who are in need of accessible vehicles or emergency support. As part of the Accessible Vehicle Fund, families fundraise half the funds needed or more for an accessible vehicle, and Jett Foundation covers the remaining costs once they reach their goal. 
If other resources have already been used to meet a specific need, if there is no longer a specific need, and/or if donations have been received in excess of a specific need, donations made in furtherance of a specific need will be applied for general purposes of the Jett Giving Fund. If the Jett Giving Fund no longer exists, all donations will be applied to further the general charitable mission of Jett Foundation.