Fundraising for an Accessible Van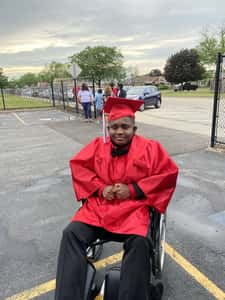 Taevion Norris (16) is a sophomore in high school living in Melrose Park, Illinois with his single mother, Tainica, and three siblings, Tania, Tyler, and Tristian. Taevion lives with Duchenne muscular dystrophy, a progressive neuromuscular disorder that causes a loss of motor, pulmonary, and cardiac function.
Taevion faces many of the physical challenges that come with Duchenne while attempting to participate with his peers in school activities or travel with his family each day. To attend medical appointments or get to school, his mother has to lift him and assemble/disassemble a manual wheelchair for their small sedan.
Tainica shares, "One day, around the start of the pandemic in 2020, Taevion fell and has not walked since. It has been so hard to travel and the process of getting all my kids in the car is very difficult."
In addition to the strenuous process that the Norris Family takes to attend school or doctors appointments, Taevion is missing out on gatherings and activities that 16-year-olds need to experience. "Taevion went from running, climbing, playing basketball, and more to not walking at all," says Tainica. "It has taken a long time for him to come to terms with what is happening. Being accepted into this program allows my son to use his power wheelchair without any assistance."
Ever since the Norris Family was referred to Jett Foundation, they made sure to stay on top of application deadlines for the Jett Giving Fund and submit an application for the Accessible Vehicle Fund branch. As participants in Jett Foundation's Accessible Vehicle Fund branch of the Jett Giving Fund, the Norris Family will aim to raise half the funds needed, or more, for their accessible vehicle before Jett Foundation steps in to cover the remaining costs and purchase the vehicle outright.
Tainica says, "Receiving this van means that we will finally travel safely together as a family. Thank you all so much for your help."
Help Taevion attain freedom and independence! Please consider donating to the family's Jett Giving Fund fundraiser today.
All donations to Jett Foundation are tax-deductible to the extent allowed under applicable law and is an unrestricted contribution to the Jett Giving Fund. The family is working to raise half the funds needed for their van or more; when they reach their goal, Jett Foundation will cover the remaining costs and coordinate purchase and delivery of the vehicle. Please note that your contribution will be combined with other Jett Giving Fund donations to ensure that each of the children in the Jett Giving Fund initiative benefit from your generosity.
About Jett Giving Fund's Accessible Vehicle Fund
Jett Giving Fund is Jett Foundation's financial assistance program for families impacted by Duchenne muscular dystrophy who are in need of accessible vehicles or emergency support. As part of the Accessible Vehicle Fund, families fundraise half the funds needed or more for an accessible vehicle, and Jett Foundation covers the remaining costs once they reach their goal. 
If other resources have already been used to meet a specific need, if there is no longer a specific need, and/or if donations have been received in excess of a specific need, donations made in furtherance of a specific need will be applied for general purposes of the Jett Giving Fund. If the Jett Giving Fund no longer exists, all donations will be applied to further the general charitable mission of Jett Foundation.