At Jett Foundation's first Family Workshop of 2023, which took place in Gainesville, FL on April 15, the Duchenne community heard from educational speakers on important topics such as financial support, endocrine, smart food choices, physical rehab, and more. In attendance were over 30 families and individuals impacted by Duchenne.
Dr. Angelina Bernier, a Pediatric Endocrinologist at the University of Florida, discussed bone health, management of steroids, and more. Daniel Stewart, a Clinical Dietitian at UF Health Pediatric GI, spoke on smart food choices in relation to steroids, energy, and weight control. Jonteriya Bedford, an Outpatient Pediatric Specialties social worker at UF Health Shands, presented on general support for patients with Duchenne.
A staple to Jett Foundation's Family Workshops is a "Parent/Individual Perspective" component, where individuals and parents share their stories and experiences in Duchenne.
Trina Stelly, a Jett Community Ambassador, female with dystrophinopathy, and a parent to two children with Duchenne, shared her story of their diagnosis and everyday life. She says, "My family's journey over the years has shifted from helping my son and other boys with Duchenne to now focusing on my daughter who is showing symptoms. Things had crashed underneath us when my son was diagnosed, but I spent many nights researching organizations like Jett Foundation for support. We must bring awareness to all of us with Duchenne who may be suffering or are impacted by it."
Perlita Hains and Jessica Campbell, who are Jett Community Ambassadors, moms to individuals with Duchenne, and moderators for our Porch Nites, also shared their in-depth Duchenne experiences with the workshop. Jessica says, "I met so many amazing families in Gainesville. Myself and two other Community Ambassadors had the opportunity to share our Duchenne journeys; each one is so similar yet so different."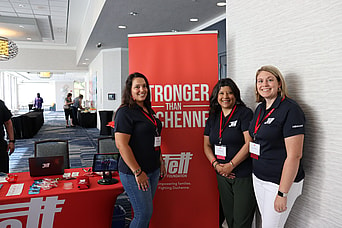 Jessica also says, "Sharing our story isn't always easy. Sharing our experiences, however, is where we empower others and make changes for the future."
The workshop concluded with a meet and greet with pharmaceutical companies who are able to provide information and advice for families who wish to explore clinical trials, which are critical studies in the fight to cure Duchenne muscular dystrophy.
Jett Foundation's Director of Programs Alexa Tinsley says, "Our Family Workshops allow us to connect with more families and give them the opportunity to learn from professionals in many different areas of expertise. From parent/individual perspectives to financial advice to smart food decisions, the Gainesville Workshop was a very beneficial day for all. We can't wait to reach even more individuals and families at workshops moving forward."
A recording of the Gainesville Family Workshop can be viewed on the Jett Foundation YouTube channel.
Jett Foundation also connected with families on available programs and resources while in Gainesville. One of these programs, Porch Nite, was available to moms from the Duchenne community following the Family 
Workshop. Porch Nite is one of Jett Foundation's Family Support Groups that aims to build relationships, foster love and support, and share experiences among moms while on a Duchenne journey.
At the April 15-16 event, moms held discussions about their own experiences, provided advice on Duchenne topics, and enjoyed the company of those who can relate to their family's challenges and journey. Porch Nite is currently offered on many occasions throughout the year in both virtual and in-person settings.
Jett Foundation plans to host more Family Workshops in 2023:

Minneapolis, MN (May 20)

Billings, MT (October)

Kansas City, MO (November)
You can help us to support families in the Duchenne community! Donate today or learn more about becoming a sponsor of our direct service programs by emailing maura@jettfoundation.org.
Please visit our Facebook albums to view all pictures from the event.
Thank you to our 2023 Family Workshop Sponsors: