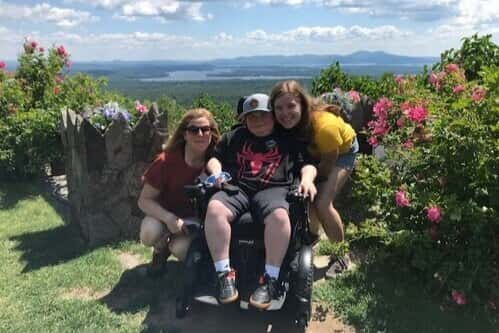 Meet the Currier Family! Lucas Currier, 18, lives in Exeter, NH, with his mother Linda, his older sister Alyssa, 19, his service dog, Gabby, and their other family canine, Theo. After an interesting last few months of school, Lucas graduated from Exeter High School and is currently exploring his options for his future after graduation.
Lucas is living with Duchenne muscular dystrophy (DMD): a progressive neuromuscular disorder. While he may face some physical challenges, that does stop Lucas from having fun and enjoying his favorite outdoor activities. When Lucas is not out walking the dogs or working on his raised bed garden, he is playing on his soccer team! Lucas is a member of the Northeast Passage Wildcats Power Soccer team, an indoor soccer team that is played in power wheelchairs.
The accessible van the Currier family had was very old and needed a lot of expensive repairs. The automatic ramp on the van was also broken. To get Lucas into the van, the family would have to raise and lower the incredibly heavy ramp manually. The van was low to the ground, it would often make questionable noises when it hit potholes or speed bumps during rides.
"Every time we went over the slightest bump or, god forbid, a speed bump, everyone cringed because we knew we were going to hear the awful scraping noise," says Linda.
The Currier family grew concerned for their safety every time they got into the van. They needed new, reliable transportation so they could safely travel with Lucas, and travel without risking their well-being as well.
"Every single time we got in the van, we wondered if we were going to make it back home," says Linda.
Here's where the Jett Giving Fund steps in. The Jett Giving Fund is a program that helps families impacted by Duchenne receive vital medical and accessibility equipment. Health insurance often won't cover all specialized medical and accessibility equipment, such as scooters, shower chairs, ramps, rotational beds, accessible vans, and other essential items needed when dealing with a progressive muscle-wasting disorder. The families raise half the funds, or more, required for a specific item; Jett Foundation covers the remaining costs and works with vendors to help bring families their much-needed equipment.
With the aid and support of their community, the Currier family reached their goal of raising half the funds needed for their nearly $47,000 accessible van. Jett Foundation covered the remaining half for the family and organized the delivery of the van amidst the global health crisis of COVID-19. The Currier Family happily received their van on March 7th.
Now, the Currier Family can have many joyous rides with Lucas knowing that their new van is safe and reliable.
"We have certainly taken many, many rides to get out of the house, and, every time we do, we are seriously filled with joy," says Linda. "There is no doubt, though, that getting this van was truly life-changing, and we are just so grateful. However, I believe we will cringe every time we go over a speed bump for the rest of our lives!"
Started in 2017, Jett Giving Fund has helped transform the lives of countless families across the country with over $1 million worth of accessible equipment thanks to the generous support of individual donors and major sponsors, including Cure Dale's Duchenne and Sarepta Therapeutics.
You can help deliver the empowering freedom of safe, accessible equipment for other families. Visit jettfoundation.org/jett-giving-fund to donate or become a sponsor today.