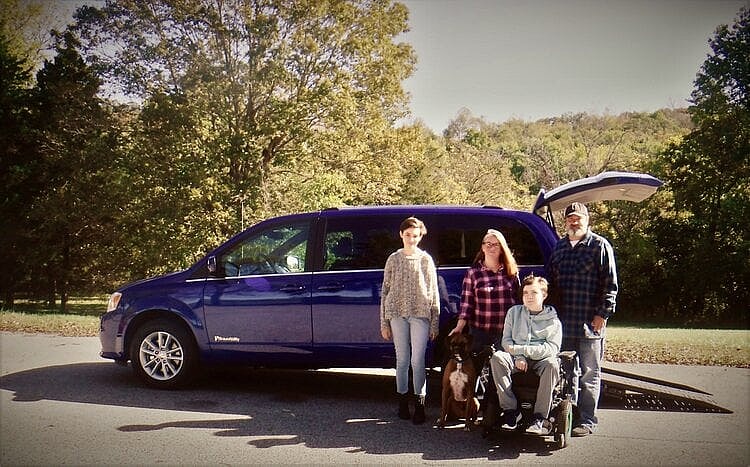 The story of the Burr family is special. Not only does it show how hard families in the Duchenne and neuromuscular communities work to provide a better life for their children, it also is a true testament to the great things that can happen when organizations come together to support a family in need.
The Burr family in Festus, MO, approached Jett Foundation at a critical time as their family was facing financial constraints. Joseph Burr, the father, wrote a heart wrenching letter to Jett Foundation asking for support. The Burr family was facing unemployment, and Joseph, a veteran, had done everything to try and raise funds to convert their van so it could accommodate their son, Evan, who is impacted by Duchenne. Joseph had started a Facebook fundraiser, but could not raise enough to undertake the nearly $17,000 required to make the vehicle usable for their family.
"To be honest, I had almost given up hope… after reaching out to so many organizations… often I'd get no response, or would be told that we do not qualify for any aid due to this-or-that… It's often difficult and frustrating, but in-the-end we found the Jett Foundation," says Joseph, Evan's dad.
Together with its partners NorthPoint Development and Variety, the Children's Charity of St. Louis, Jett Foundation worked with the Burr family to secure funds to change the lives of Evan and the entire Burr family. Having a working, accessible vehicle is so important for families to travel safely to medical appointments, to get to school and work, and to enjoy time as a family.
"With help from the Jett Foundation, friends and family, NorthPoint, Variety and some others – it's finally happening! It's good to know that people do care."
The Jett Giving Fund program is meant to support families impacted by Duchenne, and assist them in raising funds for accessible vehicles. Families raise half the funds needed for the cost of the equipment or more, and Jett Foundation covers the remaining cost for families accepted into the program.
With their new van, the family is looking forward to doing everyday activities like going to the grocery store, school functions, and doctor appointments. They also are excited to finally travel as a family together–travel to Gatlinburg, Tennessee and stay in a cabin, in the mountains. "We will no longer feel trapped in our own home! It's going to change our lives in a positive way," says Joseph.
Joseph's advice to any other families hesitant to ask for aid is: do not be too proud. "I believe that's what community is for!"
He says, "The whole is greater than the sum of its parts."
Thank you again to our partners NorthPoint Development and Variety, the Children's Charity of St. Louis for providing tremendous support to the Burr family and to Jett Foundation.
You can help us to support more families!. Donate today or learn more about becoming a sponsor of our direct service programs by emailing info@jettfoundation.org.
Established in 2017, Jett Giving Fund has helped transform the lives of countless families across the country with over $1.8 million worth of accessible equipment and emergency assistance thanks to the generous support of individual donors, local communities, and major sponsors including Cure Dale's Duchenne, Sarepta Therapeutics, FibroGen, the Flatley Foundation, and the Killian Family.